Hello! How do you spend your Friday? These days, the hot day continuing. Are you OK about your health? I hope you to you don't suffer summer lethargy.
By the way, summer is around corner!! What event do you imagine for summer? I think there is lot of event which makes us fun. For example, going to beach or pool to swim, seeing fireworks display, doing a test of our courage,(Japanese say "肝試し") doing camp and so on. I think summer festival is one of the events which make us fun. In my home town summer festival which name is "Gion Festival" is holding. That summer festival has many street stall and sacred portable shrine. So many people come to my home town to enjoy Gion festival every year.
Yesterday, I went to Gion festival with my family. Actually, I really want to wear the Yukata, but I couldn't. Because, I had class yesterday. When I got back my home, it was close to 8 o' clock. So I couldn't wear Yukata. I want to wear the Yukata if I have chance to go to summer festival again.
As I said before, there are so many street stall. I ate large helping Yakisoba and I drank some alcohol with my parents. It is really fun for me to spend time with my parents because, I always late to get back home because of class, circle and part-time job. So I couldn't eat dinner with my family and talk with my parents enough. But yesterday, I could eat some food together and talk a lot. My mother looks like happy.
Today, I have time to go to Gion festival with my mother. Sad to say my father can't go there with us because he has to stay his office for the night. But I want to spend a great time with my mother and I want to talk a lot with her.
If you have chance to come to my home town, please join Gion festival. I'm sure that you will have great experience. Thank you for reading.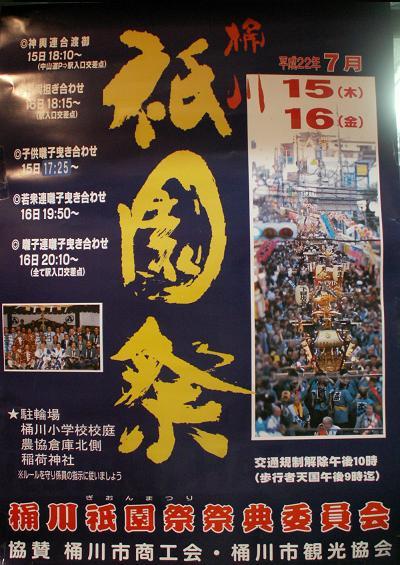 ↑ this is poster of Gion festival.